Our History
Our company had its beginning in 1896 as Jordan Lumber Company, located at Second & Gayoso where the motor entrance to the Peabody Hotel is currently located. It was the first building material company in Memphis to stock finished windows, doors, flooring, and molding. Up until then the products were shipped by riverboat from either New Orleans or St. Louis.
In 1914 the Jordan Lumber Company bought our present location, 1129 Florida Street, which at the time was known as Memphis Saw Mill Company. Later the company had two other locations, one on Vance and one at 2185 Lamar that later became the company's headquarters in 1937. In 1948 Billy Hyman came on board under the G.I. on-the-job training program.
The company started a manufacturing business known as Jordan Sales Company. In 1959 Jordan Lumber Company separated the retail division from the manufacturing division and named Billy Hyman president of the retail division. The retail division was moved to the 1129 Florida Street location, which is still our current location.
Over the next years our business grew rapidly due to aggressive marketing.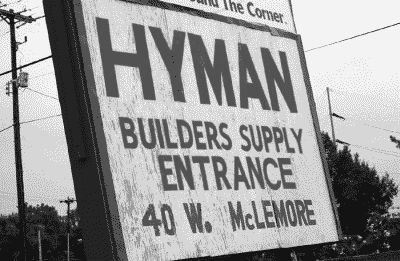 In 1964 the name was changed to Hyman Builders Supply, Inc. after Billy Hyman obtained a majority of the stock. Through the years we continued to grow and made the decision to stay in South Memphis even though most companies were moving east.
Through the years we have bought adjoining property on both sides and have established a 10,000 square foot hardware store in the middle of our lumberyard making us a full line home center. We have loyal customers in the tri-state area that have been doing business with us for three generations. Our customers have a variety of different businesses, such as rental agencies, management companies, general contractors, homebuilders, remodelers, churches, commercial & industrial, roofing contractors, and the general public. With our team of experienced employees we are able to give personal service and advice, along with free delivery, to our customers for all their building needs.
In late 2015, the company was given new life when it was purchased by Don and Rick Youngblood. More recently in 2019, long-time employee, Dan Fuller, became partners with Rick in owning the store. As a locally owned business, the builders supply store has been a fixture in the south Memphis community. This new ownership is committed to providing Memphis and the surrounding areas with excellent products and great customer service for many years to come.